I am missing my mum's white kitchen bench back home, that's where I took this photo… I finally got my camera and mac setup and found this refreshing Orange, Lemon, Ginger and Goji Berry Smoothie on my memory card! I was making this during the Aussie winter after my dad harvested his home grown ginger and we had close to 1.5kg of fresh organic ginger to use up.
I was so busy packing and sorting for our move to Vietnam I actually forgot about it! oops! So glad I found it, I am suffering from a mild cold and a good dose of Vitamin C and ginger is just what I need, combined with the refreshing crushed ice and sweetness from the Goji berries. This Orange, Lemon, Ginger and Goji Berry Smoothie is adapted from the fresh fruit shakes I used to get back home near my mum's house. It's a must for anyone visiting Cabramatta (or Vietnamatta ;), fresh fruit is crushed with ice and sugar syrup (I usually ask to leave the syrup out).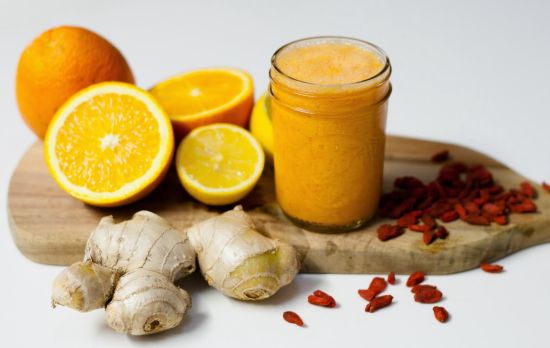 Orange, Lemon, Ginger and Goji Berry Smoothie
In Vietnam, these fresh fruit smoothies are on offer almost at any cafe or restaurant and the variations are incredible. I could just order one after the other as my meal. Mango, Soursop, Avocado, Passionfruit, Watermelon… the list goes on. You just need to ask them to hold off on the sugar syrup as they like to add sugar to everything in Vietnam! I was told by my doctor that the Vietnamese are amongst one of the highest ethnic groups at risk of developing diabetes. One of the main reason my doc put me onto the Paleo lifestyle – Thank you doc!
It's a simple recipe and you can adapt it to whatever fruit you might have on hand such as grapefruit, apples, watermelon etc.
Serves 1-2You will need:
1 large or 2 small oranges peeled and chopped into pieces
1 lemon peeled and chopped into pieces
1 inch ginger peeled and roughly sliced
1 tbsp goji berries
1/2 cup ice cubes
Method
Place all ingredients in magic bullet or blender
Add about 1/2 cup of ice cubes
Process until smooth
Serve straight away
Hope you enjoy <3
Orange, Lemon, Ginger and Goji Berry Smoothie
Ingredients
1 large or 2 small oranges peeled and chopped into pieces
1 lemon peeled and chopped into pieces
1 inch ginger peeled and roughly sliced
1 tbsp goji berries
1/2 cup ice cubes
Instructions
Place all ingredients in magic bullet or blender
Add about 1/2 cup of ice cubes
Process until smooth
Serve straight away
Hope you enjoy <3