So far life in Vietnam has been pretty good, a few little tummy hurdles which is to be expected when you are sampling all the good street food on offer, it is so hard to resist! but now I am focusing on getting out of holiday mode and getting back into cooking and exploring new recipes. I was given a challenge by Yvonne over at Life, Love & Paleo who I met over on Instagram (it is such a wonderful community and I have met so many other like minded food enthusiasts! I definitely recommend getting on there if you aren't already and don't forget to say hi to me <3)
I owned up to Yvonne that I have never made Scotch Eggs before when I saw her breakkie post about 2 weeks ago. So she emailed me the basic recipe and a few variations and set me this challenge, I got pretty excited seeing the variations as to be honest I kind of felt that Scotch Eggs looked a little boring, but I shouldn't have thought that as I never had one before (sorry!). I teamed up all the typical Vietnamese flavours I grew up with but using clean ingredients with no refined sugar or msg. Pork, eggs, lemongrass, garlic, fish sauce and an assortment of herbs. You can never go wrong with this combo!
Vietnamese Lemongrass & Pork Scotch Eggs
Yvonne's looked much better than mine! I ended up with a few split eggs, I think I need to use more mince around the egg next time as it kind of thinned out on the flat part where they were sitting, but once they ended up in my mouth it made no difference at all if they were flat on one side or split!
I sliced each Scotch egg in half, wrapped it with lettuce and a handful of Vietnamese herbs and dipped it in the Nuoc Mam dipping sauce. I gave one of the local ladies here a taste too and got a big nod of approval while her mouth was stuffed, a good sign 🙂
So the recipe is below, I used local free range eggs and they are so teeny tiny, I will adjust it to suit a 59g egg approximately
You will need:
500gm pork mince (organic/free range is possible)
3 tbsp minced lemongrass (approximately 1 stalk)
2 garlic cloves minced
1 eschalot minced
6 + 1 eggs (59g approx)
1 tbsp good quality fish sauce (I use Red Boat brand)
1/2-1 tsp sea salt
1/2-1 tsp ground pepper
2 tbsp coconut oil melted
Assorted Vietnamese lettuce and herbs
For the dipping Sauce:
1 tbsp good quality fish sauce (I use Red Boat brand)
1 tbsp white vinegar
1 1/2 coconut sugar
juice of one lime
1 tbsp water
Mix all ingredients until the sugar dissolves
Method:
Fill a pot with enough water to be able to cover the eggs, bring to boil
Once boiling, add 6 eggs gently (careful not to crack them) and allow to cook for about 5 mins or to your liking
Drain the eggs and sit them in some cold water to cool down
While you wait for the eggs to cool completely, make the dipping sauce and wash and spin dry the lettuce and herbs
Combine the pork mince, lemongrass, garlic, eschalot, salt, pepper & 1 egg and set aside
Combine the ingredients in a bowl
Once the eggs are cooled, pre-heat the oven on 180c degrees and line a baking tray with baking paper
Divide the pork mixture into 6 even portions. I do this in the mixing bowl by flattening the mixture evenly then scoring the portions evenly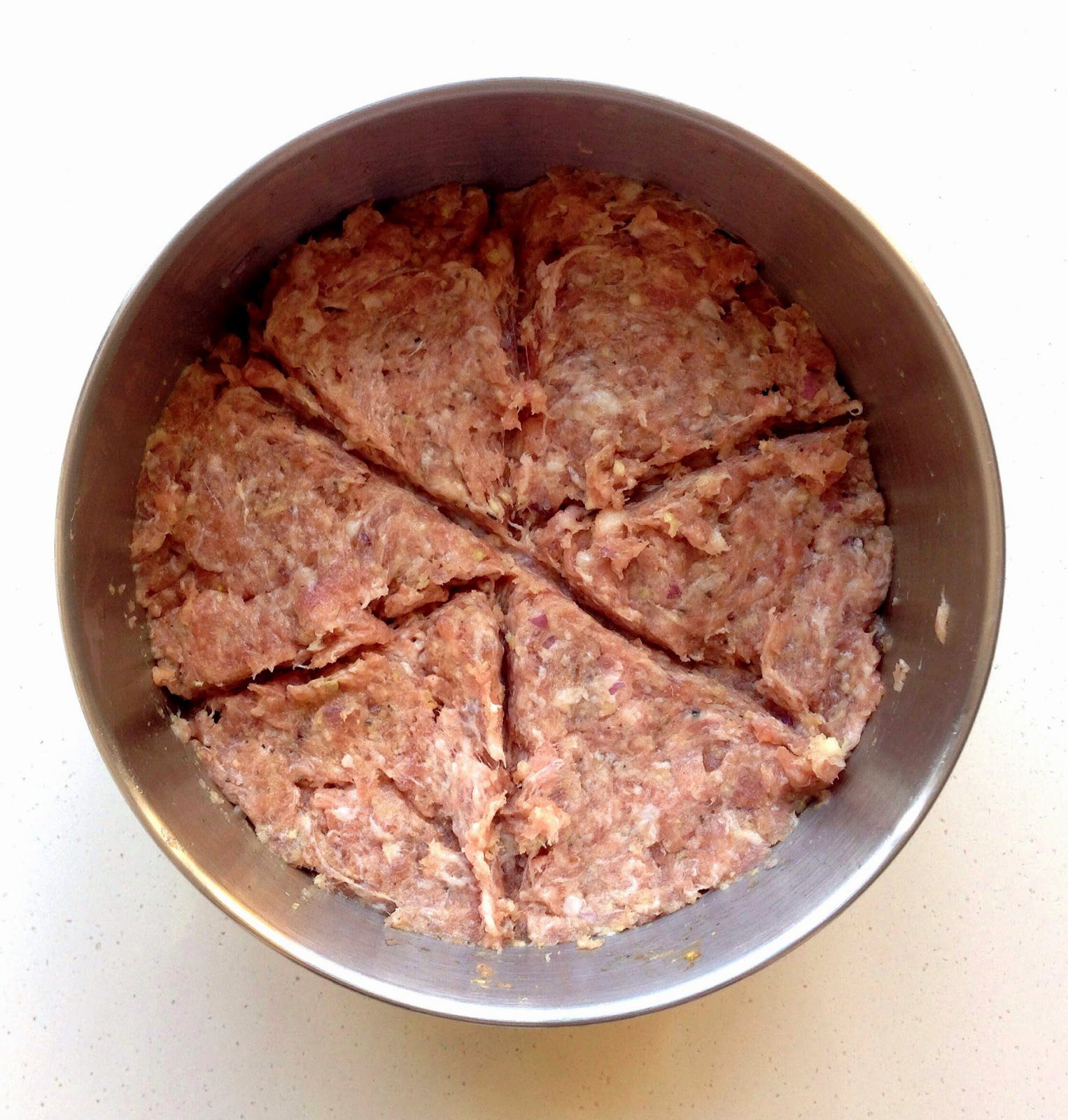 Divide into 6 equal portions
Roll each portion into a ball, then flatten slightly and make an indent where the egg will sit, then carefully close the mince up over the egg. Moisten your hands with water to help prevent the mixture from sticking
Pour the 2 tbsp of coconut oil on the baking tray, then gently add each scotch egg to the tray gently rolling them evenly in the oil
Bake for 12 mins, then turn and bake for another 12 mins or until golden brown
Serve with the Vietnamese lettuce, herbs and dipping sauce
Hope you enjoy! May xx
Vietnamese Lemongrass & Pork Scotch Eggs
Ingredients
500gm pork mince (organic/free range is possible)
3 tbsp minced lemongrass (approximately 1 stalk)
2 garlic cloves minced
1 eschalot minced
6 + 1 eggs (59g approx)
1 tbsp good quality fish sauce (I use Red Boat brand)
1/2-1 tsp sea salt
1/2-1 tsp ground pepper
2 tbsp coconut oil melted
Assorted Vietnamese lettuce and herbs
For the dipping Sauce:
1 tbsp good quality fish sauce (I use Red Boat brand)
1 tbsp white vinegar
1 1/2 coconut sugar
juice of one lime
1 tbsp water
Mix all ingredients until the sugar dissolves
Instructions
Fill a pot with enough water to be able to cover the eggs, bring to boil
Once boiling, add 6 eggs gently (careful not to crack them) and allow to cook for about 5 mins or to your liking
Drain the eggs and sit them in some cold water to cool down
While you wait for the eggs to cool completely, make the dipping sauce and wash and spin dry the lettuce and herbs
Combine the pork mince, lemongrass, garlic, eschalot, salt, pepper & 1 egg and set aside
Once the eggs are cooled, pre-heat the oven on 180c degrees and line a baking tray with baking paper
Divide the pork mixture into 6 even portions. I do this in the mixing bowl by flattening the mixture evenly then scoring the portions evenly
Roll each portion into a ball, then flatten slightly and make an indent where the egg will sit, then carefully close the mince up over the egg. Moisten your hands with water to help prevent the mixture from sticking
Pour the 2 tbsp of coconut oil on the baking tray, then gently add each scotch egg to the tray gently rolling them evenly in the oil
Bake for 12 mins, then turn and bake for another 12 mins or until golden brown
Serve with the Vietnamese lettuce, herbs and dipping sauce